Embroidery
First Impressions Matter!
Enhance your professional wardrobe with the polished look of custom embroidery!
Please make choices carefully!
Embroidery items are not returnable.
Note: Embroidery adds 2-3 business days to delivery time.
Personalize with Text, Logo, or Both!
Available Font Styles:
Block Style:

Script Style:
Text: $4.99 for 1st line,
$2.99 for additional lines.
18 characters/spaces per line.
3 line maximum.
Available Thread Colors: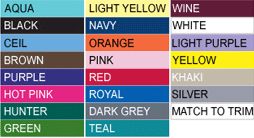 Embroidery is available on most of our products.

To add embroidery to a product:
1. Check the Embroidery box on the product page and add the item(s) to your shopping cart.

2. Once you have added the item(s) to your cart, you will see all the details needed to choose your font style, thread color, logo, and location options of the embroidery.
Available Logos: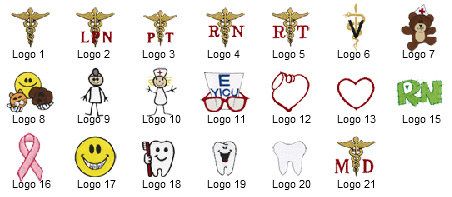 Add a stock logo for $6.99. Call 1-866-972-2849 with any text or stock logo questions
Custom Logo:
To order a custom logo:
A per piece price of $8.00 will be charged for logos that contain up to 8,000 stitches. If additional stitches are required, a guest service representative will contact you with the updated pricing.
Custom Logo Fees:
Custom Logo Fees: Per piece cost: $8.00
Set-up cost:
In addition to the per piece price, there is a one-time fee of $50 for custom logo setup. This charge covers the digitizing and sew-out sample of your logo. The one-time fee will be waived if your merchandise total is over $299.00.
Logo size/format requirements:
Logo must be in a vector or JPEG format with a maximum size of 975K.
Please note the following:
By submitting an order that includes embroidery of a logo, Customer agrees to all of the following: Customer hereby grants Scrubs & Beyond, LLC ("S&B"), a limited, nonexclusive license to reproduce the submitted logo as embroidery on garments. Customer represents and warrants that it has the right to grant S&B the license contemplated herein. Customer will defend, indemnify, and hold harmless S&B and its affiliates for any and all claims, suits, damages, liabilities, judgments, and settlements, including attorney's fees and expenses arising from any claims related to infringement of a third party's intellectual property rights related to the submitted logo.
Still have questions about a custom logo? Call our custom logo service department Monday-Friday between the hours of 8:00am-4:30pm CST at 1-866-972-2849. We will be happy to help!